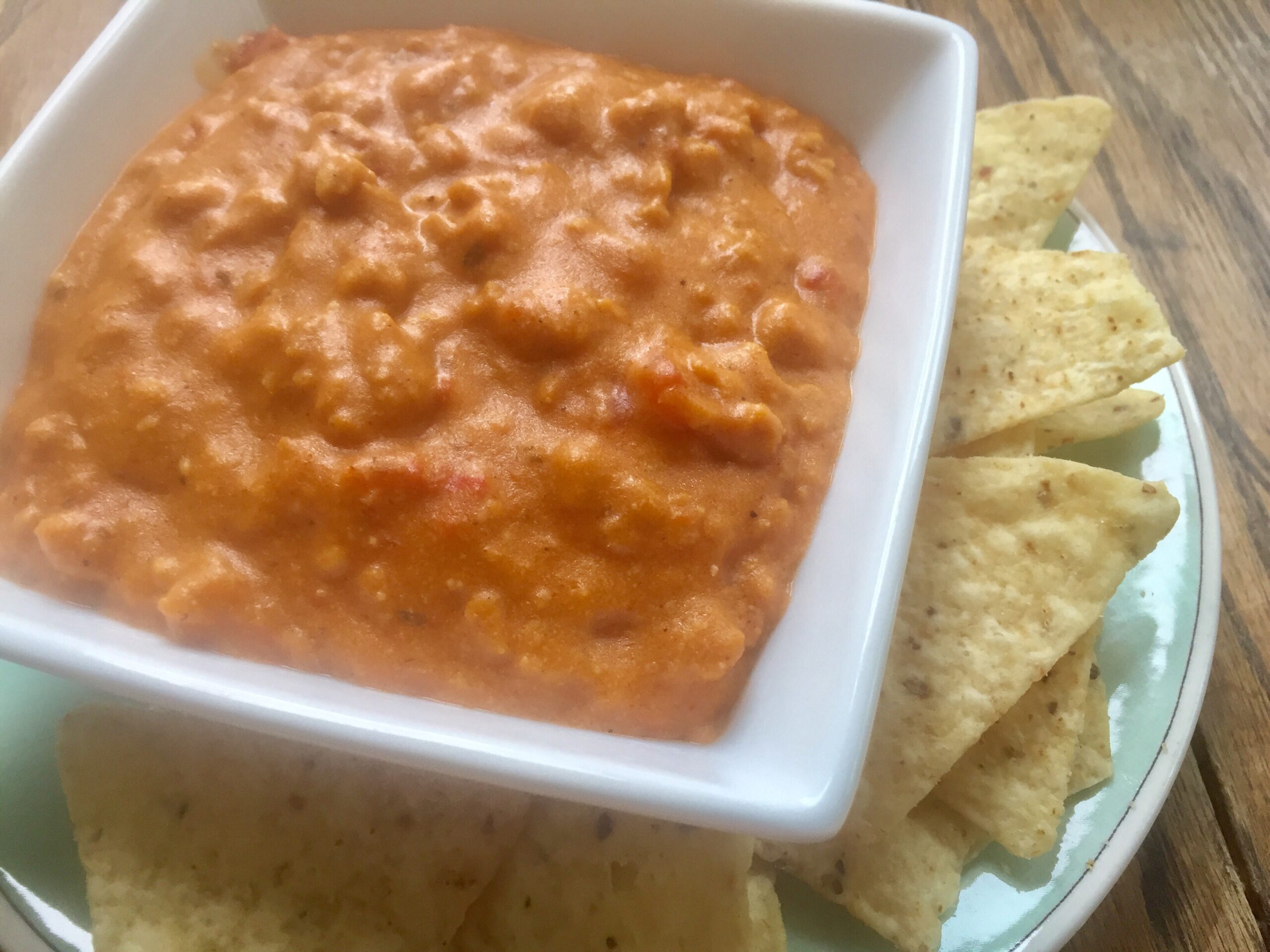 I came up with this recipe a few years ago and tacked it on as a variation to my Vegan Macaron and Cheese recipe. However, it's been getting so much love that I thought it deserved its own page.
I make this for potlucks, parties, and family get-togethers. Everyone, including my Mexican non-veg family, scarfs it down… sometimes while we're waiting for the rest of the meal to be made. I made this for some non-veg friends one night and it received rave reviews. One even said, "This is better than Velveeta!" Although, for me, it's not hard to think something's better than Velveeta, I took it as a great compliment! Especially since I used to make queso dip using Velveeta cheese. My neighbor loved it so much that she made it for a work carry-in. She sent me a text that day and said that her co-workers were loving the dip!. I took this queso dip to a New Year's Eve party and walked into the kitchen to a non-veg chowing down on the dip and telling someone that "this dip is amazing!"
So, I may be biased… but I think this is definitely the best vegan queso recipe. Other recipes out there use Daiya cheese and way too much nutritional yeast –  I'm really not a fan of either. There are other recipes that use carrots, potatoes, and onions to make a vegan cheese sauce. I'm not a fan of that either. Mine uses cashews and just a small amount of nutritional yeast for the cheese sauce, the same sauce I use to make my vegan macaroni & cheese.
This dip can be made and eaten the same day or the next day. It keeps really good for 3-4 days in the fridge. And, it can be put in a crockpot to take to a potluck. Just be sure to keep it on the lowest setting to avoid scorching it to the bottom or turning it into lava!
Ingredients:
1 batch of vegan cheese sauce
1/2 pound vegan burger crumbles cooked or 1/2 package of Gardein's Beefless Crumbles
1/2 package of taco seasoning. I use Ortega Taco Seasoning Mix
1/2 cup water
1 jar of your favorite salsa. I like On the Border Mild Salsa
Directions:
In a saucepan, make cheese sauce according to the directions.
In a separate saucepan, combine water and taco seasoning. Add veggie crumbles and cook on medium-high until most of the liquid is absorbed. Once the cheese sauce is thickened, add taco "meat" and salsa to the cheese sauce and stir to combine. Heat and eat with chips! Great on nachos too!