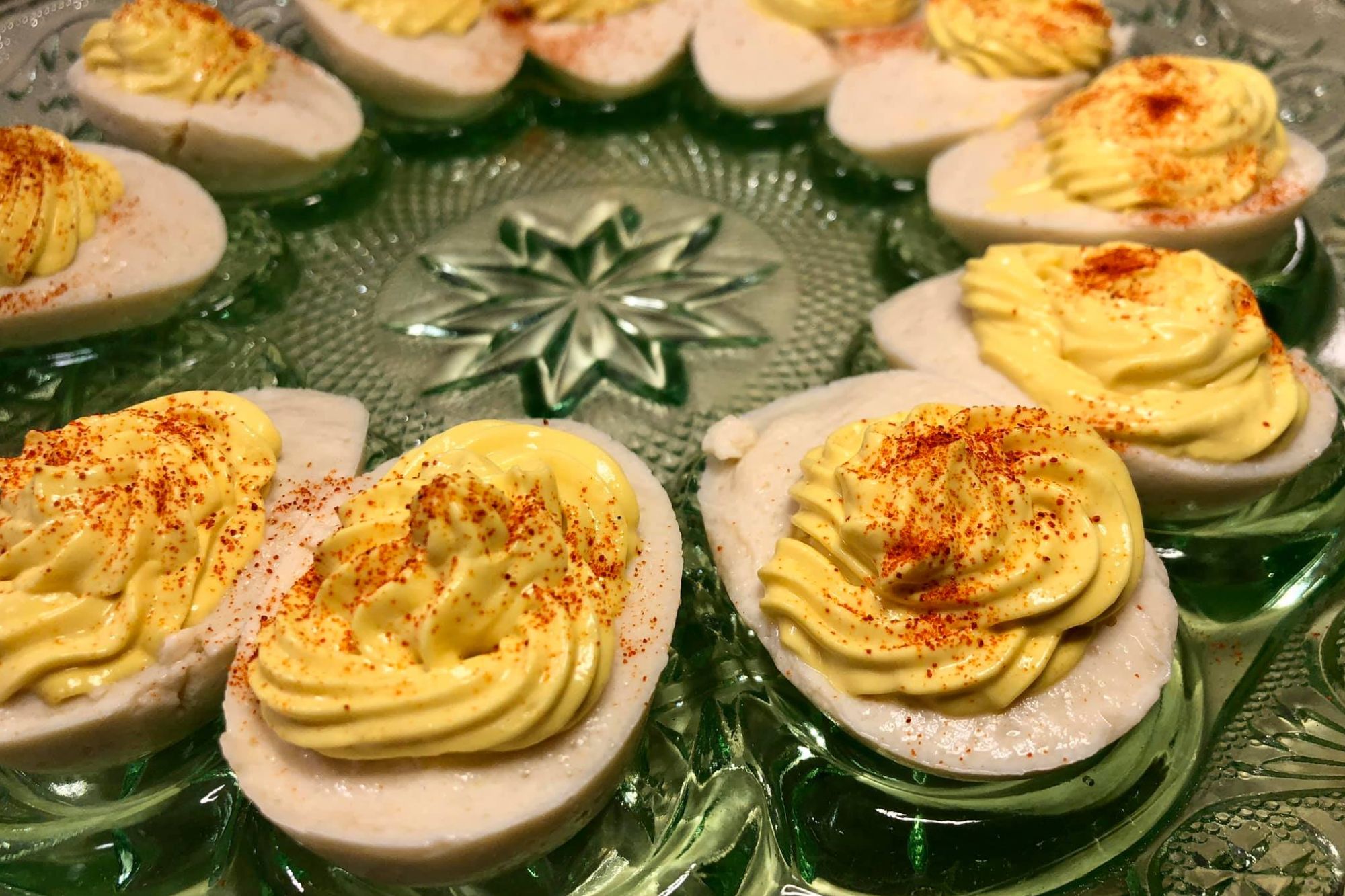 Do a google search for vegan deviled eggs recipe and you'll get a number of results … some use almond milk or mushrooms for the base, and some use potatoes. I've tried a few of them in the past. Some were good and some were horrible … inedible. But even the recipes we liked, still weren't exactly like deviled eggs.
My husband always craves deviled eggs around the holidays. Every holiday before going vegan my mom would make them for our family get-togethers. When we went vegan, she stopped making them because no one else really ate them except my husband.
Delicious Vegan Deviled Egg Recipe
Just before Thanksgiving last year my husband told me that he was craving deviled eggs. He didn't want deviled potatoes … he wanted deviled eggs. I've heard a lot of people say how great Tabitha Brown's vegan deviled egg recipe is but my husband won't touch a mushroom so that one's out. We were actually working on our recipes around the same time though!
I had made egg salad in the past using tofu as a base and knew this would be perfect for the yolk filling. I just needed to figure out how to make the whites.
I tried the almond milk recipe …. blech!! Inedible. They went straight into the trash. I started thinking of how to make it work and decided to give silken tofu a try.
Tofu really doesn't have any flavor and will take on the flavor of whatever you use to season it. So adding a little bit of black salt and agar to help it set, was the perfect combination for a vegan deviled egg with almost the exact consistency and flavor of a real deviled egg!
This vegan deviled egg recipe is pretty simple. You can even make the yolk filling a few days ahead and store it in the refrigerator. The egg whites start to get a bit a tad liquidy after a couple of days. Still edible, just loses a bit of the consistency. If you're making them for yourself, whip them up a couple of days in advance if you want. But, if you really want to impress your friends and family I'd make the whites in the morning or at most the night before for the absolute best egg white consistency.
I purchased some silicone egg molds on Amazon, but if you don't have them, you can use a muffin tin. Just fill it up about 1/8 to 1/4 of the way with the egg white. Just enough that you'll be able to scoop a little of the white out of the center to create a crater for the filling.
Deviled Egg Ingredients
These vegan deviled eggs only have 7 ingredients.
Tofu (silken & extra firm)
black salt
agar agar
vegan mayo
yellow mustard
turmeric
What is Black Salt & Where Can I Find It?
While you may be familiar with most of these ingredients you may not be familiar with black salt, also known as kala namak. Black salt is used primarily to give foods a sulphury taste similar to eggs. You can typically find it at Indian grocery stores or online. Besides using for this recipe, it's also a great way to add an egg-y flavor to tofu scramble!
What is Agar Agar & Where Can I Find It?
Agar Agar was a new one for me. I had played around a bit with it in a couple of vegan dessert recipes I was trying out. It makes a great substitute for gelatin in certain recipes and acts as a thickener and helps firm foods up.
It's sold in powder, flakes, and bars. I use agar agar powder in this recipe. You can find it at most health food shops or online.
Vegan Mayo
There are a few different vegan mayos on the market. I prefer Vegenaise. I like the consistency & flavor the best. A different brand would work, but you may need to cut back on the mayo just a tad because other mayos tend to be thicker. They're also not as sweet as Vegenaise so you may want to add a touch of sweetener such as maple syrup or agave …. just a touch!
If you're looking for a vegan Easter appetizer, this vegan deviled egg recipe is it! Give it a try then please let me know what you think of it in the comments. I'd love to hear your feedback!
Tofu
There are 2 types of tofu that are used in this recipe. Silken Tofu and Extra Firm tofu. You should be able to find both in a refrigerated section at almost any grocery store. When buying the tofu, make sure you buy the refrigerated silken tofu, not the shelf-stable box for the whites.
For the yolk filling, you'll want to buy the Extra Firm tofu.
Normally, I'd have you drain and press the tofu. This time, it's not necessary. Just open the packets, drain the liquid, and they're ready to use. No pressing needed!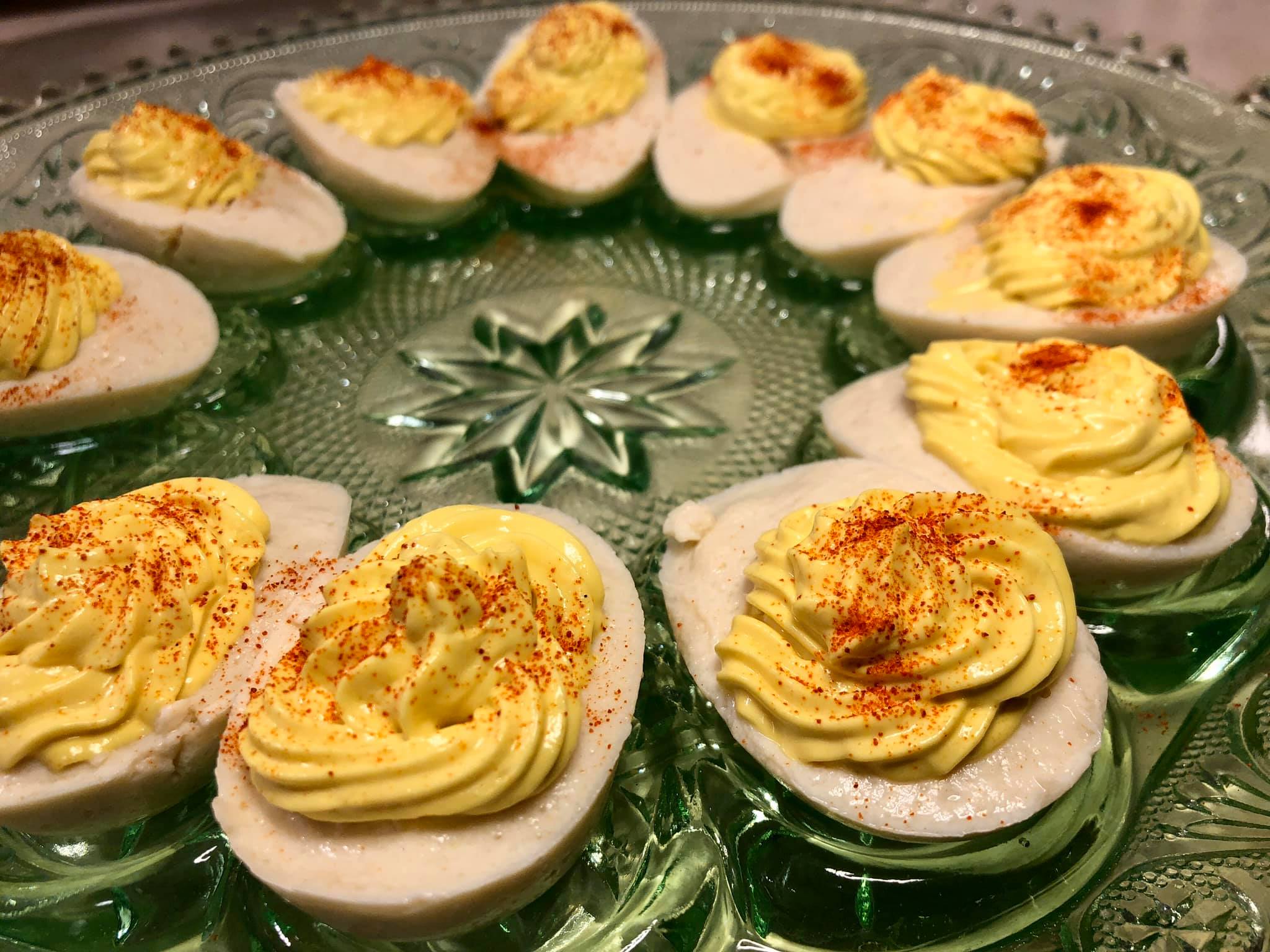 The Best Vegan Deviled Eggs
Looking for the best vegan deviled egg recipe for your holiday gatherings? These vegan deviled eggs are so close to the originals that you won't believe they're actually vegan!
Print Recipe
Pin Recipe
Rate Recipe
Ingredients
For the Whites
1

block

Silken Tofu, drained (not pressed)

Not aseptic tofu

3/4

tsp

black salt

2 tsp

agar agar
For the Yolk Filling
1

block

Extra Firm tofu

1/4 cup

+ 1 tbsp

vegan mayo

I prefer Veganaise

2-3

tbsp

yellow mustard

1/2

tsp

black salt (kala namak)

1/2

tsp

turmeric

for yellow color

smoked paprika

optional
Instructions
For the egg whites
In a small blender or food processor, blend all egg white ingredients until smooth. Pour into a saucepan and heat it over medium heat until it starts to simmer. Whisk the mixture then let simmer for about 5 minutes to activate the agar agar. Remove from heat. Slowly pour mixture into egg molds or fill muffin tins 1/8 to 1/4 full. Let cool for in the fridge for about an hour to firm up.

Once the whites are firm, using a melon baller or small spoon, scoop out a small portion of the middle of the egg whites to create a hole for the filling. Be careful not to scoop to deep so you don't put a hole all the way through the white!
For the Yolk Filling
Using a small blender cup, food processor or beaters, blend all of the ingredients for the yolk filling until smooth. Store in fridge until ready to use.
Putting it all together
Once the whites are cooled and you have your hole for your filling, using a pastry bag with tip or a spoon, add yolk filling on top of the egg whites filling the hole you created and letting it spill out to resemble a deviled egg.

Sprinkle a little smoked paprika over the top of each egg. Cover and chill in the refrigerator until ready to eat.