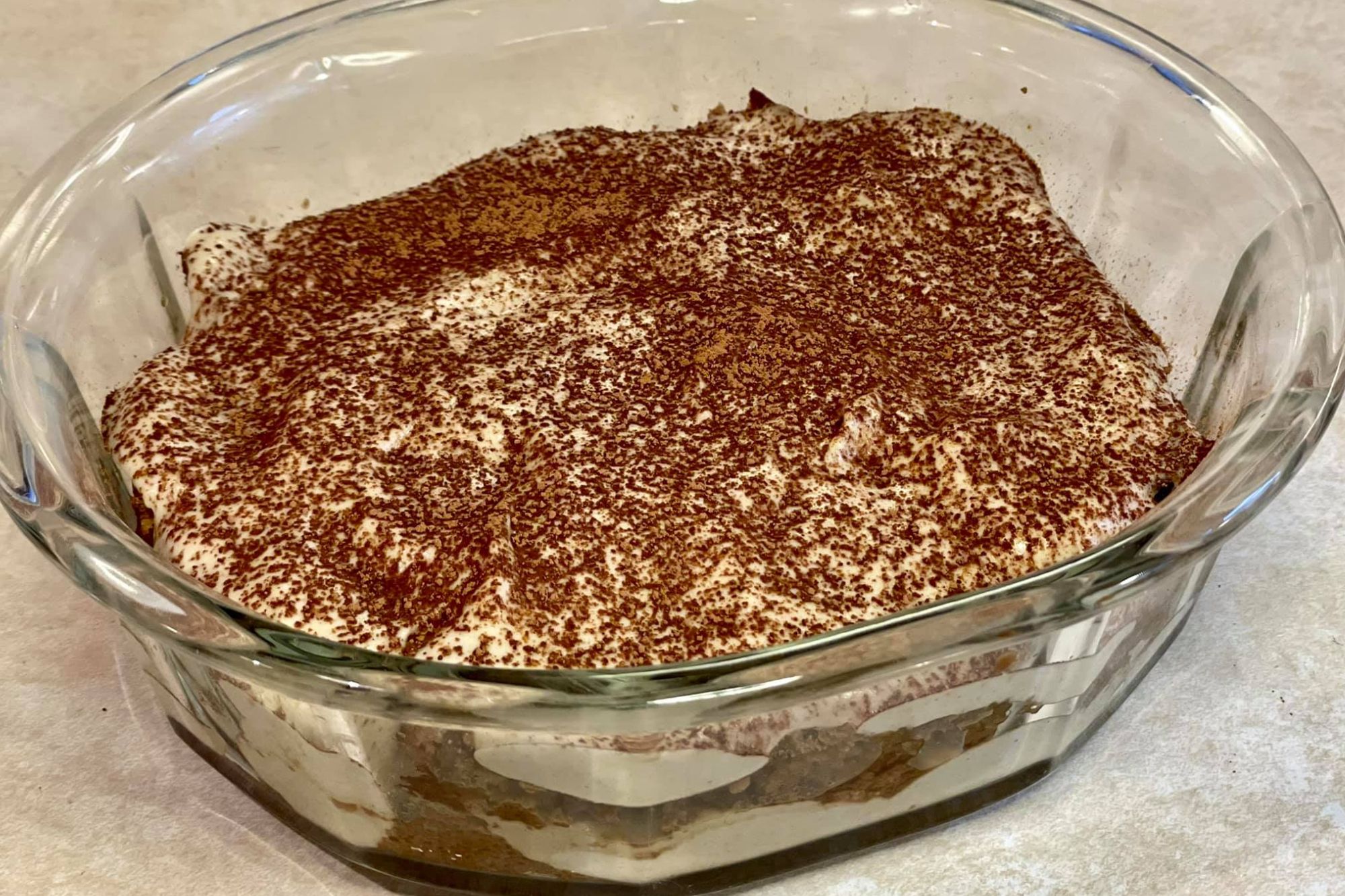 I have to admit, I never made tiramisu before becoming vegan. Did I eat it, yes!! But never had the nerve to make it. After becoming vegan, it was about 10 years before we had it again. We just never found a vegan version, and I still didn't have the nerve to make it.
A couple of years ago I went to New York to attend Main Street Vegan Academy to become a Vegan Lifestyle Coach & Educator. For dinner one night, my husband and I went to an amazing vegan restaurant and vegan tiramisu was on the menu. We were so excited that we almost skipped dinner and went straight to dessert! The tiramisu was just as good as I remembered, even better because it was cruelty-free!
Easy Vegan Tiramisu
The next year for his birthday my husband asked for vegan tiramisu instead of birthday cake. I decided I would see what I could do. I started looking at tiramisu recipes to see how I could veganize it. It turns out, it was pretty easy! I already had a cream recipe that I had been making with cashews, vanilla, and dates that I used to drizzle over our chocolate crepes and brownies. I just had to figure out how to veganize the ladyfingers.
After looking at recipes, I decided that I really had no desire to make homemade ladyfingers. I opted to keep it simple and instead used a Dunkin Hines White cake mix. Yes, it's vegan! I replaced the eggs with Ener-g Egg and the oil with applesauce. You could use flax egg as well, I just find that Enger-G Egg tends to work better for cake mixes.
The result? AH-MAZING!! My husband was excited to have a delicious easy vegan tiramisu.
Gluten-Free, WFPB (Almost) Tiramisu
Last weekend I was craving Tiramisu again. However, my husband and I are trying to eat healthier and less processed. Plus, I prefer to eat mostly Gluten-Free. So, I decided to see if I could make a delicious gluten-free tiramisu that was also made with whole plant foods.
Instead of the cake mix, I made my own white cake using a mix of oat flour and almond flour, used the same cashew cream recipe, and added the espresso and coffee liqueur which is the only thing keeping it from being truly whole food plant-based. If you want to keep it strictly whole food, skip the coffee liqueur and add a little more espresso.
The result? AH-MAZING again!! You couldn't tell that it was gluten-free. The taste was as good as the original, and although it's a little more work, I think I prefer this version better. Plus, it's almost guilt-free! It's pretty much a perfectly healthy food!
It's husband and neighbors approved!
If you make this recipe for either the gluten-free tiramisu or if you make it using the box mix idea above, I'd love to know what you think!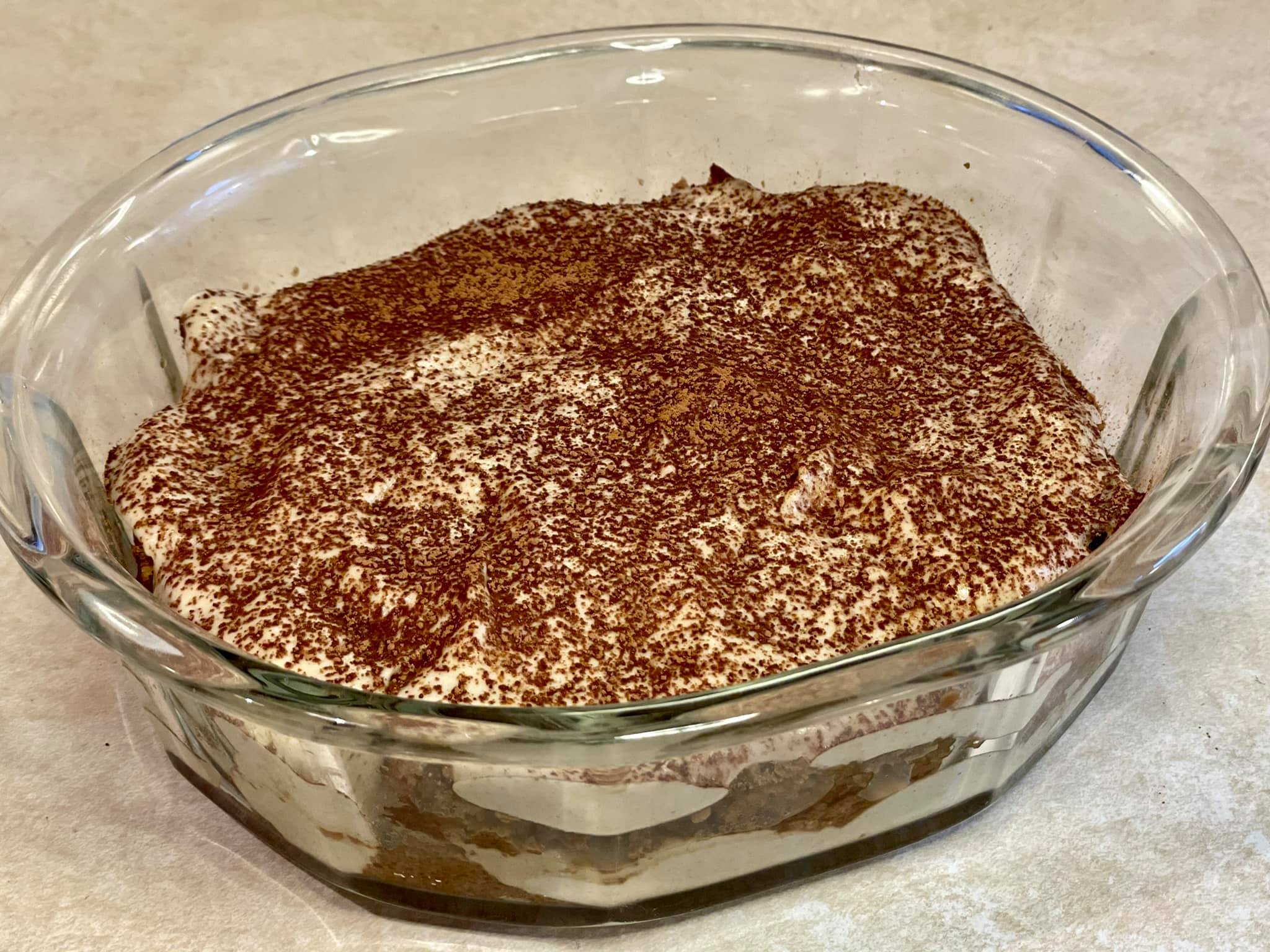 Vegan Tiramisu
Looking for a great vegan tiramisu recipe? This recipe is gluten-free, but could be made with all-purpose flour if desired. Or, use a white box cake mix to keep it simple. Just double-check the ingredients to make sure it's vegan.
Print Recipe
Pin Recipe
Rate Recipe
Ingredients
Lady Finger Cake
1 1/2

cup

oat flour

1/2

cup

almond flour

2

tsp

baking powder

1/2

tsp

baking soda

1

dash

salt

1/2

cup

plain, unsweetened nondairy yogurt

1/2

cup

maple syrup

1/2

cup

almond milk

2

tsp

vanilla extract
Cream
2

cups

raw cashews

soaked overnight

2

cups

water

8

medjool dates

pitted

3

tsp

vanilla

1

pinch

salt
Liquid
3/4

cup

espresso

4

tbsp

coffee liqueur, dark rum or amaretto
Instructions
Preheat oven to 350 degrees. Spray two 8x8 or 9x9 pans with nonstick spray and set aside.

To make the ladyfinger cake: Stir flours, baking soda, and baking powder to fluff them up before measuring. Sift flours, baking soda, baking powder, and salt together in a large bowl and mix well.

In a separate bowl, combine the remainder of the cake ingredients. Pour into the dry ingredients. Stir to combine. Stirring for about 1 -2 minutes helps bring air into the mix to make the cake less dense.

Pour batter into two prepared pans and bake for about 20 minutes. Test with a toothpick after 20 minutes. If the toothpick comes out clean, remove the pans from the oven and let cool completly on a wire rack.

To make the cashew cream: Add all cream ingredients to a blender and blend until smooth. Store in the refrigerator until you're ready to use.

If you have a high-powered blender such as a Vitamix, there's no need to soak your nuts. If you don't, I would suggest soaking your nuts for at least 4 hours or overnight to make a smooth cream.

Once the cakes are completely cooled, slice the cakes into small rectangles, reminiscent of ladyfingers.

You can transfer one pan of the ladyfinger cakes into a glass 8x8 or 9x9 dish, or leave them in the pan you baked them in.

Top the ladyfingers with 1/2 of the espresso mixture, then spread 1/2 of the cashew cream on top.

Place the 2nd pan of ladyfingers on top of the cashew cream, then repeat with the remaining espresso and then another layer of cashew cream.

Sift the cocoa powder over the top of the cashew cream.

Cover and place in the refrigerator to chill for at least 4 hours, but preferably overnight.