Oven Roasted Veggies with Vegan Sausage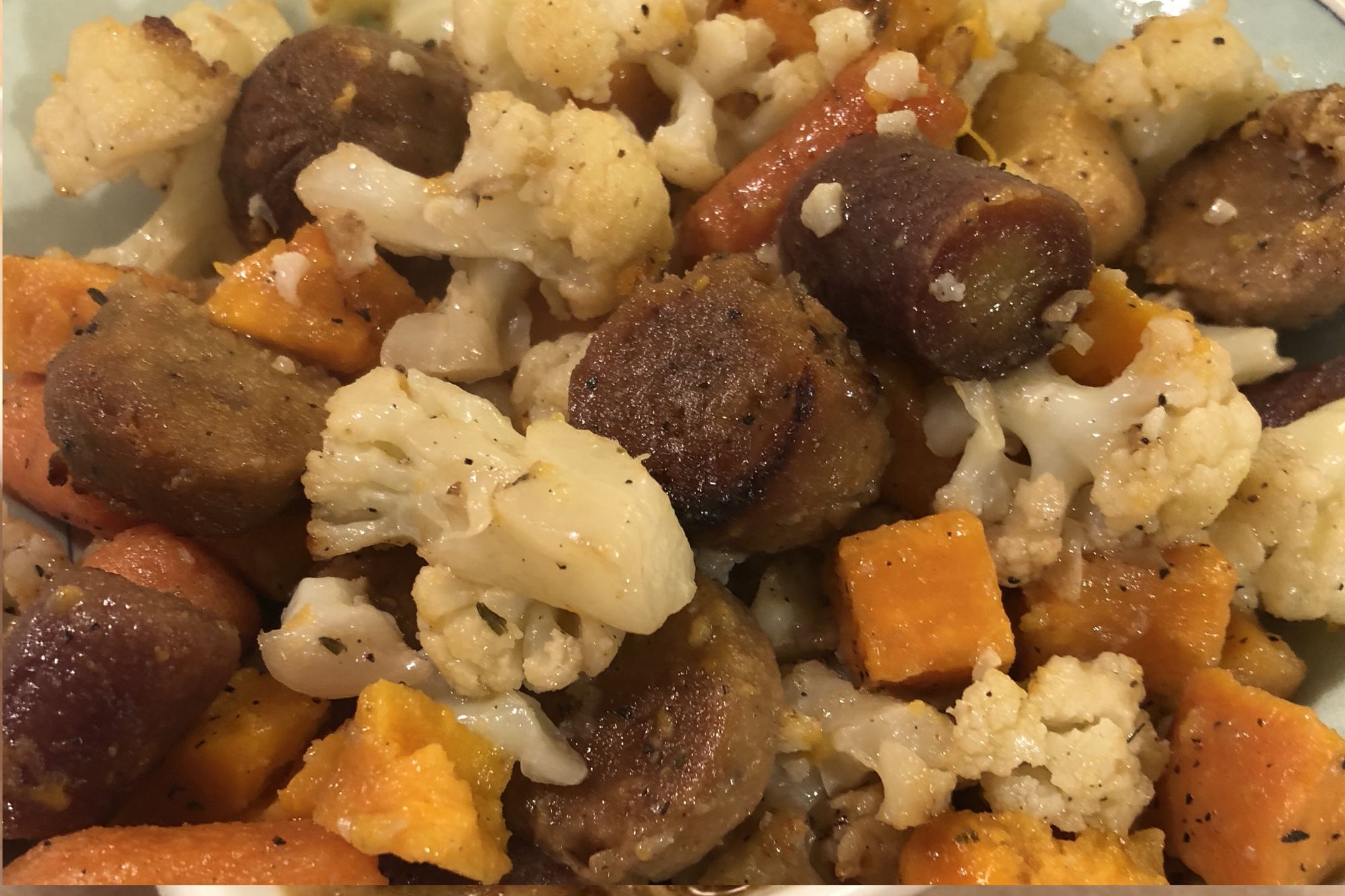 Do you crave a warm, satisfying, and veggie-loaded meal that requires minimal effort? Our Oven Roasted Veggies with Vegan Sausage is sure to make a delightful dinner for the whole family.
This medley of sweet potatoes, carrots, and cauliflower offers an abundance of nutrients with their roasted-to-perfection goodness.
Choosing Your Favorite Vegan Sausage
When it comes to selecting vegan sausage for this dish, flexibility is key. Use whatever vegan sausage you like best or that you can easily find at your local grocery stores.
My personal preference? I love the Fieldroast Apple Sage Sausage the Beyond Italian Sausage. If you need a gluten-free sausage, go with the Beyond.
At the end of the day, what matters most is your enjoyment. So feel free to use your go-to vegan sausage or try different varieties until you find the one that makes this dish truly sing for you.
Easy Veggie Meal
Whipping up this dish is a breeze. It's all about letting your oven do the work, roasting the vegetables and vegan sausage to bring out their best flavors. So, while the oven takes care of cooking, you can sit back, relax, and anticipate the delightful meal ahead.
Whether it's a mid-week dinner or a weekend treat, this Oven Roasted Veggies with Vegan Sausage dish is a versatile addition to your menu. It's hearty, healthy, and delicious.
Ingredients
2

sweet potatoes

cubed

4

carrots

peeled and cubed

½

head of cauliflower

chopped

½

teaspoon

sage

½

teaspoon

thyme

½

teaspoon

black pepper

½

teaspoon

salt

2

Fieldroast Smoked Apple Sausages

sliced into bite size pieces

4

tbsp

Veganaise

1

cup

water
Instructions
Pre-heat oven to 425 degrees. Throw chopped veggies, cubed sweet potatoes, and vegan sausages

into bowl. Add spices. Add water and veganaise in a jar, cover and shake to mix well. Pour over

veggies and spices and mix well. Spread veggies and sauce evenly over baking sheet and cover with

foil. Bake in oven for 30-45 minutes or until veggies, especially potatoes are fork tender. Remove foil

and broil for up to 5 minutes to give them a little bit of a crisp. Be careful not to burn.