Vegan Tofu Scramble Recipe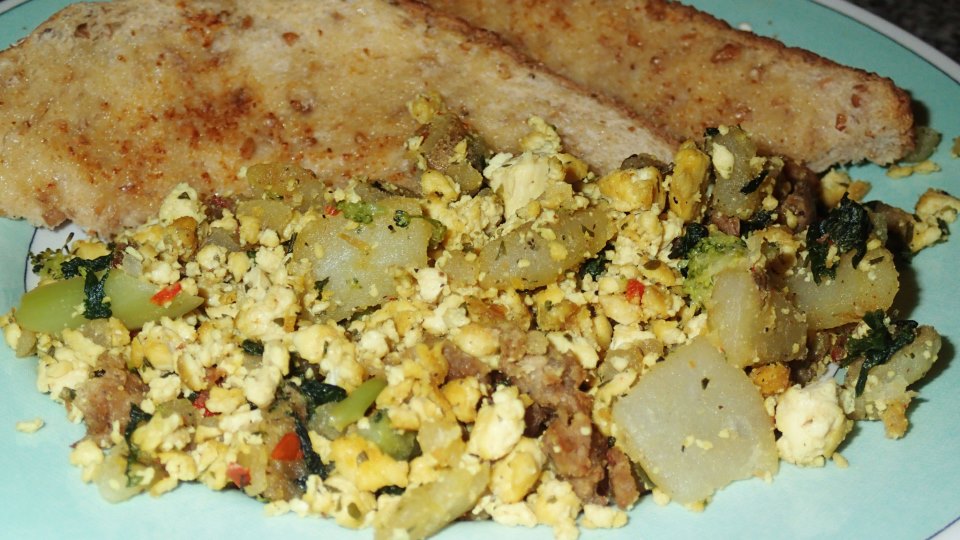 Among the many dishes that have become favorites in vegan households, tofu scramble stands out as a versatile and satisfying breakfast staple. Whether you're a long-time vegan or just exploring plant-based eating, this dish is a must-try!
What is Tofu Scramble?
At its core, tofu scramble is crumbled tofu sautéed with a medley of spices and, often, fresh veggies. It's reminiscent of scrambled eggs in texture, but with a unique flavor profile that's totally customizable. From the basic rendition with just a sprinkle of turmeric for that golden hue to the more embellished versions with herbs, veggies, and vegan cheese – there's a version of tofu scramble tailor-made for every taste bud.
Vegan Scrambled Eggs
Traditional scrambled eggs have been a breakfast favorite for many. But if you're looking for a plant-based alternative that's not only cruelty-free but also packed with protein and free from cholesterol, tofu scramble, is often hailed as the vegan answer to scrambled eggs.
With the right blend of spices and cooking techniques, tofu can be transformed into a dish that looks and tastes remarkably similar to scrambled eggs. Turmeric provides that familiar yellow hue, while nutritional yeast can add a savory, cheesy flavor. The best part? It's completely customizable! Throw in some diced tomatoes, bell peppers, spinach, or any of your favorite veggies to enhance the flavor and nutritional profile.
The rise in popularity of tofu scramble speaks to its versatility and deliciousness. It's a heart-healthy alternative that doesn't skimp on flavor or satisfaction. Whether you're serving it up for a leisurely weekend brunch or need a quick weekday breakfast, tofu scramble is sure to impress.
Egg-y Flavor
For those who relish the soft, slightly creamy consistency of traditional scrambled eggs, but are on the hunt for a plant-based counterpart, tofu scramble is your answer. But here's the magic ingredient that truly seals the deal – black salt. Known as "kala namak" in Hindi, black salt is a rock salt packed with a sulfurous punch, which lends tofu scramble that distinctive "eggy" taste. It's a game-changer!
If you've never heard of it, you can easily find black salt in specialty stores or Indian groceries under the name kala namak. And for those who prefer online shopping, there's a host of options available with just a click.
Apart from the eggy flavor from black salt, you can further elevate the taste with nutritional yeast for a cheesy undertone, or toss in a medley of your favorite veggies for added nutrition and flavor. The possibilities are endless!
So, whether you're a dedicated vegan, a curious foodie, or someone just looking to diversify their breakfast game without the cruelty or cholesterol, tofu scramble is a dish that promises and delivers. Embark on this culinary adventure and savor a vegan breakfast that's every bit as comforting and flavorsome as its traditional counterpart. Cheers to delicious mornings!
1 pkg. firm tofu, drained and squeezed well
1/2 vegan no-chick'n bouillon cube (Edwards & Sons)
1/2 tbsp. nutritional yeast
1/2 tsp salt-free Mrs. Dash
1 tbsp. dried parsley flakes
1/2 tsp onion powder
1/4 tsp garlic powder
1/8 tsp turmeric
1/2 tbs soy sauce
1/4 tsp. black salt (optional, but recommended for the sulfur/eggy flavor)
pepper to taste
Drain tofu well and squeeze out as much water as possible. Spray pan with no-stick cooking spray or melt butter to coat. In large bowl, crumble tofu and add seasonings, mix well.
Cook on med heat until done. I like mine to slightly brown on one side.
Optional Add-ins:
fried potatoes
vegan sausage crumbles (I like lightlife's gimme lean)
brocolli
spinach
kale
For Breakfast Burritos or Tacos: add scramble mixture to flour tortillas along with vegan sausage patties and top with chopped kale. An easy & delicious way to get some greens in the morning!