Vegan One-Pot Chicken with Pan Roasted Cauliflower and Orzo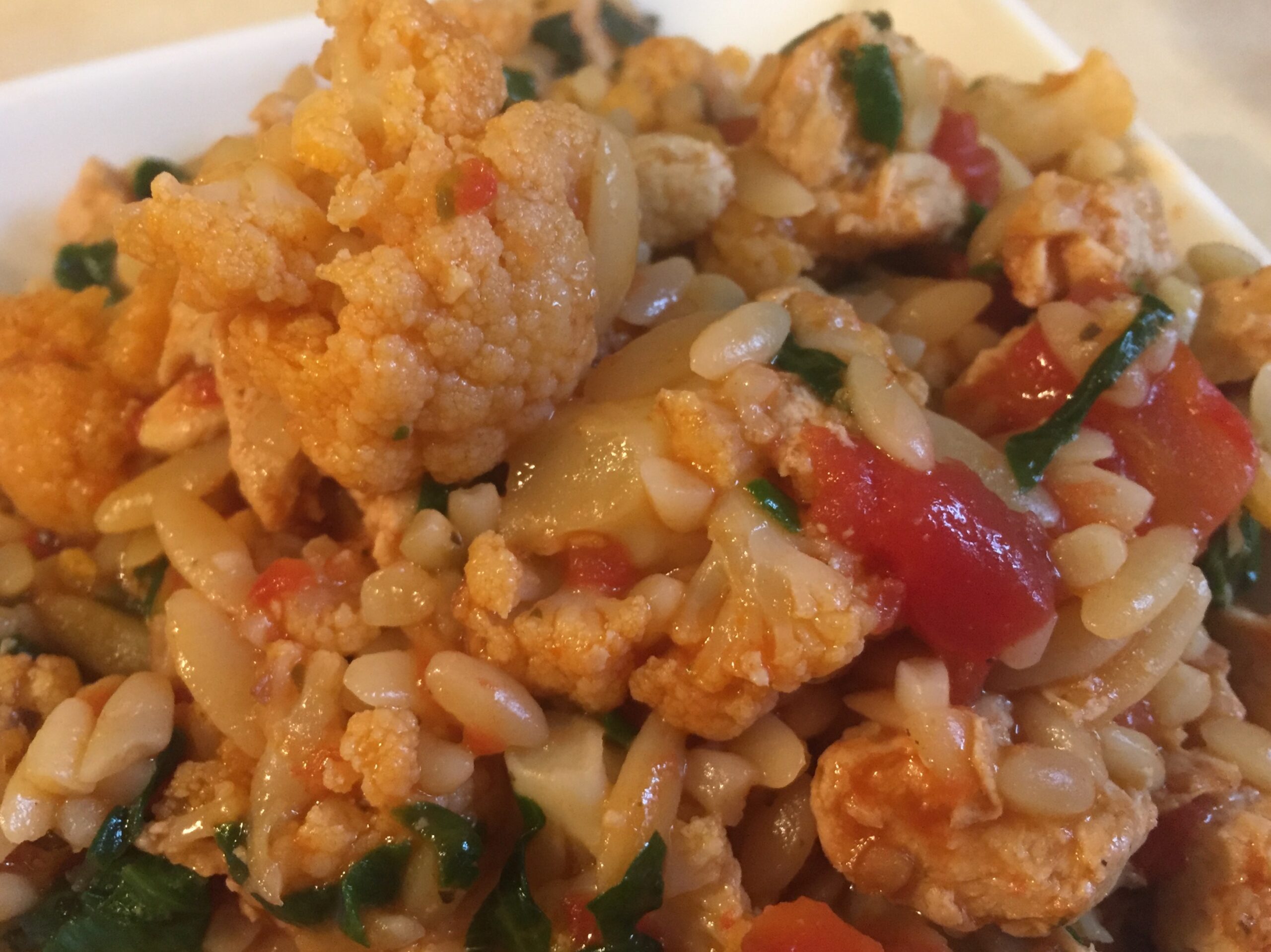 Betty, Betty, Betty, why do you keep sending me emails with chicken recipes in them, don't you know I'm vegan???? Wait… why do I even subscribe to Betty Crocker emails? Oh yeah, for times like this when they send me the (al)most perfect recipe. What would make it perfect? If it were vegan! So, I thought, if Betty's not going to make it vegan, I will! And, voila, a delicious, one-pot vegan chicken with pan-roasted cauliflower and orzo recipe… even better than Betty!
Ingredients:
1 tablespoon olive oil
2 cups bite-size cauliflower florets
1 1/2 cups water
1 1/2 Edward & Sons Not-Chick'n bouillon cube (or sub vegetable broth and skip water)
2 pieces thawed Gardein Chick'n Scallopini, cut into bite-size pieces (optional)
1 cup uncooked orzo
1/4 cup thinly diced sweet onion
1 (14.5 oz) can diced tomatoes with basil, garlic, and oregano, drained
1 cup fresh spinach, chopped
Directions:
Heat oil over medium heat in 12-inch nonstick skillet. Add cauliflower and pan-roast for approximately 10 minutes, stirring occasionally, until lightly browned.
Add water, bouillon cube, vegan chick'n (if using), orzo, onions, and tomatoes. Heat to boiling, then cover and reduce heat to medium. Simmer approximately 10 minutes or until orzo is tender. Remove lid.
Stir in spinach and continue cooking for about 10 minutes or until liquid is absorbed. Stir occasionally to prevent mixture from sticking to pan. Remove from heat.