Vegan Broccoli Quinoa Casserole with Stuffing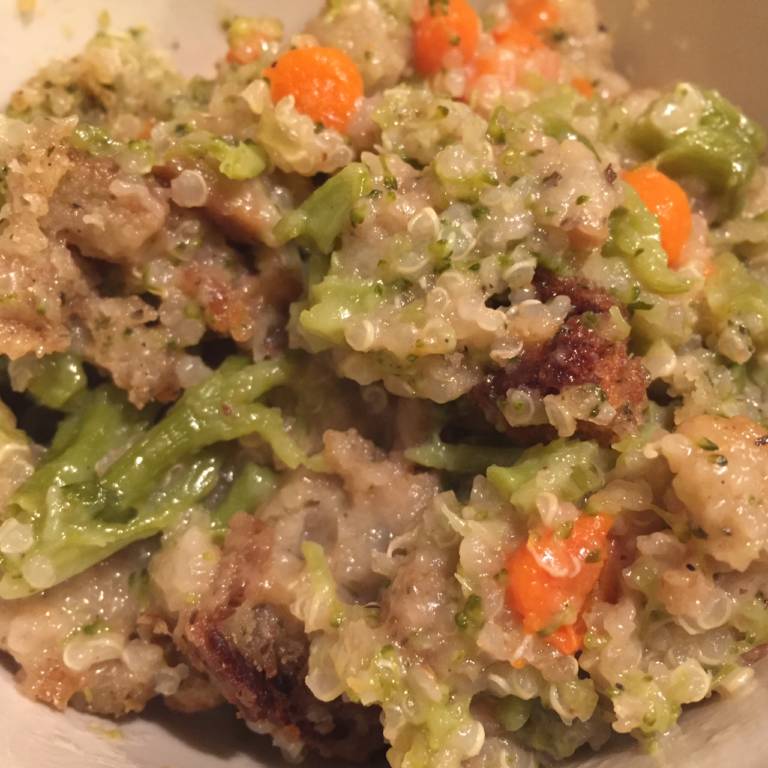 Broccoli Quinoa Casserole with Stuffing
This easy and delicious Broccoli quinoa stuffing casserole is similar to chicken and stuffing, but better, because there's no meat! Instead there's tender veggies and the quinoa is a great source of protein. Use it as either a main dish or side dish at any vegan or non-vegan Thanksgiving feast.
Ingredients:
2 tbsp. vegan butter, I like Earth Balance Original
4 cups non-dairy milk, I like Rice Dream Original
4 heaping tbsp white flour
2 Edward & Sons Not Chick'n Bouillon Cubes
1 lb frozen broccoli florets (or cuts)
1/2 cup quinoa rinsed
6-8 servings prepared stuffing – I use Pepperidge Farms Herb Seasoned Cubed Stuffing
Optional add-ins:
1 large carrot, diced
1 rib celery, finely diced
Directions:
Pre-heat oven to 375 degrees.
If using optional add-ins, which I do recommend, there are two ways to add them. My husband and I like our carrots and celery extremely soft, to the point where they dissolve in your mouth.
Because of this, I place them in a covered steamer basket on top of a boiling pot of water and steam them for approximately 15-20 minutes until they're tender.
Or, you could just throw them raw into the casserole with the rest of the ingredients. They should cook up pretty tender in the liquids. I just don't like to take my chances!
Vegan Chicken Gravy
The sauce used in this recipe is the same sauce used for my Vegan Chickenless Noodles,  my Vegan Potpie, and a basic vegan chicken gravy, which are all great Thanksgiving dishes. In a large saucepan, add the 2 tablespoons of butter. Melt over medium-high heat. In a shaker bottle or jar with tight sealing lid, add 1 heaping tablespoon of the flour and 1 cup of non-dairy milk. Shake well leaving no lumps.
Add to saucepan with melted butter.   Do this with the remaining flour and milk – adding it to shaker bottle 1 tablespoon of flour and 1 cup of vegan milk at a time and adding it to saucepan. Add 2 bouillon cubes. Cook over medium-high heat stir semi-frequently so it doesn't form lumps while it's thickening. Bring to boil and cook for approximately 15 minutes to thicken.
While the gravy is cooking, spray a 9×13 pan with non-stick spray. Add frozen broccoli and 1/2 cup rinsed quinoa. Once gravy is slightly thickened, pour over broccoli and quinoa. Add diced carrots and celery if using. Stir to evenly combine.
Place in oven on 375 for 1 hour or until most of gravy is absorbed and broccoli and quinoa are done.
Meanwhile, prepare stuffing according to package directions. Be careful when purchasing stuffing. Most stuffing is NOT vegan. The only stuffing I've found that is vegan is Pepperidge Farms Herbed Stuffing. Or, you could make your own. I follow the instructions to make 1/2 package – 6 to 8 servings.
After 1 hour of baking, remove casserole from oven and top evenly with stuffing. Place bake in over for approximately 20-25 minutes to brown the stuffing on top, being careful not to over cook.
Serve and enjoy!