Easy Crockpot Vegan White Quinoa Chili Recipe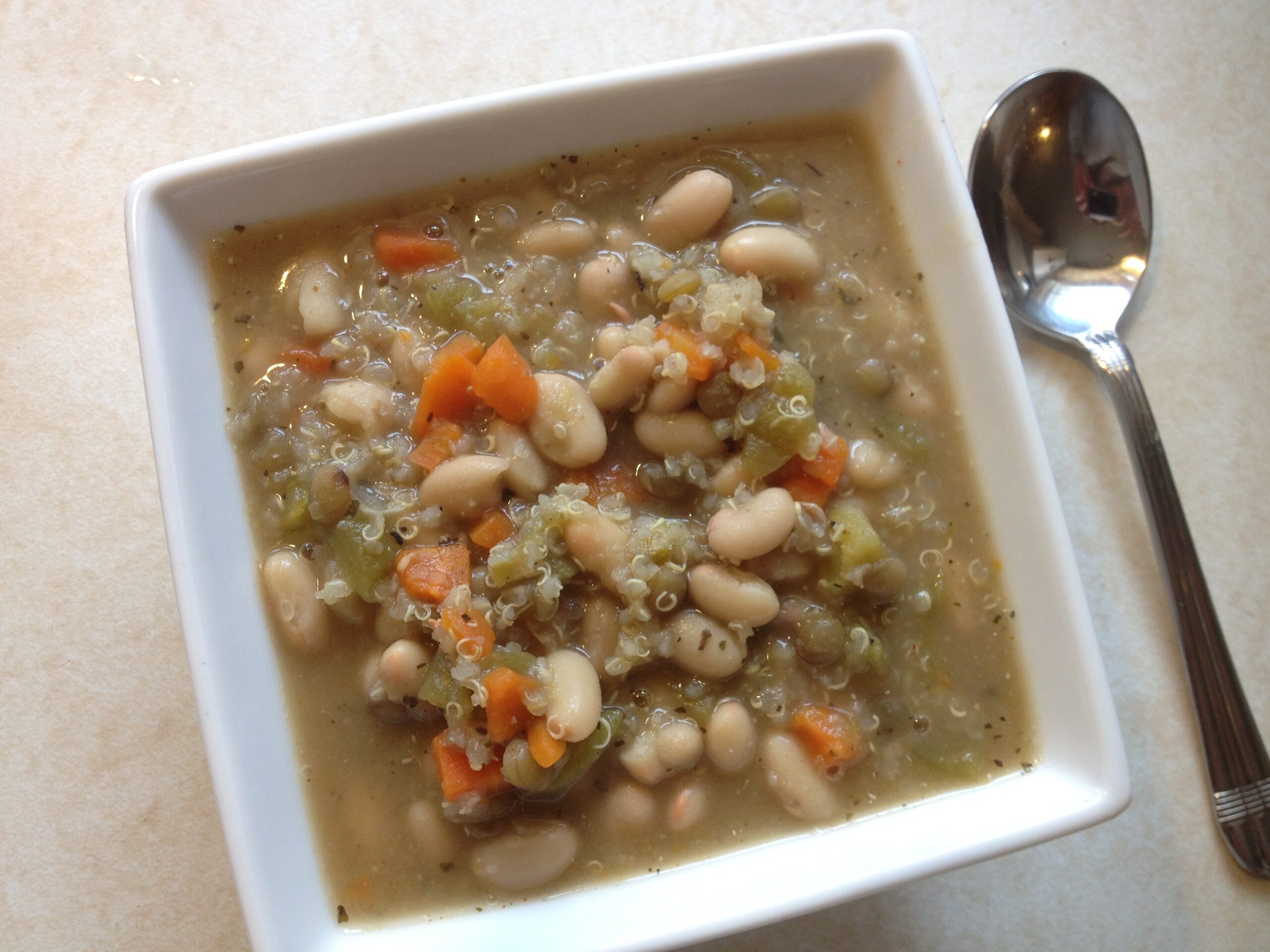 If you're from the midwest, you may be pretty sick of seeing the "white stuff"! I know I am. But, after a harsh winter and trying to keep warm in front of the fire with a bowl of chili, I was ready for something a little different… not too different though because I do LOVE chili! So, I thought I'd switch it up with a white chili to go with all the "white stuff" we've had this year!
This easy vegan white chili has an added protein boost with the addition of quinoa and lentils. There's no need to pre-cook the quinoa or lentils, just throw them in and let them cook with the rest of the ingredients!
Ingredients:
1/2 cup water
4 cloves garlic, minced
4 medium carrots, diced
5 (14.5 ounce) cans great Northern beans, undrained
 2 (4 ounce) cans canned green chopped chile peppers
4 cups vegan "chicken" broth – I like Edwards & Sons No-chick'n bouillon
2 cups water
2/3 cup quinoa, uncooked
2/3 cup lentils (optional), uncooked
2 teaspoons ground cumin
1 teaspoons ground oregano
1/2 teaspoon black pepper
1/2 teaspoon chili powder
2 dashes of cayenne pepper (or more if you like it hot!)
2 bay leaves
Directions:
Add water, garlic, and carrots to medium pan and cook over medium heat until carrots are tender. Add more water if necessary to keep them from burning to the bottom of the pan.
Meanwhile, add 1 can of beans and 1 can of water to blender, blend on medium about 10 seconds until well blended. This will serve as a thickener for the chili. Add blended beans and remaining ingredients, including cooked carrots & garlic to crockpot.
Cook on high until quinoa is done, approximately 30-45 minutes depending on crockpot.
Variation: add more veggies! Try onions, chopped kale, chopped spinach, diced zucchini and diced red bell peppers!