Black Bean Quinoa Vegan Enchiladas!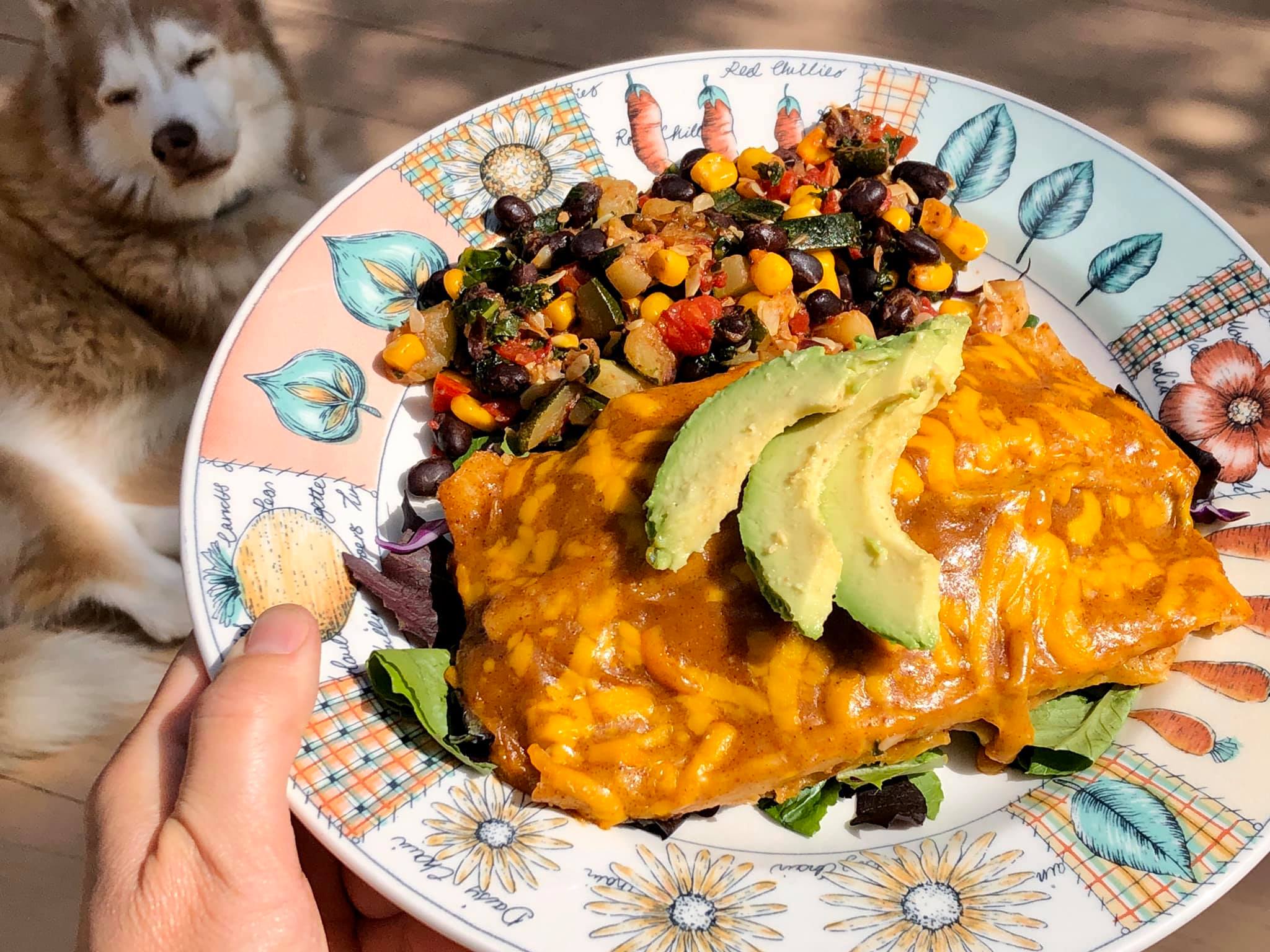 Growing up in a traditional Mexican household, food was always a central part of our family gatherings and celebrations. It brought us together and filled us with memories that would last a lifetime. One particular dish that was near and dear to my heart was my grandpa's enchiladas.
As a child, I would watch him lovingly prepare the enchiladas. His enchiladas were more than just food; they were a reflection of our family's rich history and traditions.
As an adult, I made the life-changing decision to adopt a vegan lifestyle. This new journey presented an exciting challenge: to recreate my grandpa's famous enchiladas to align with my new plant-based lifestyle.
The veganization of grandpa's enchiladas turned out to be a triumph. Vegan enchiladas are even more incredibly satisfying and bursting with flavor. They can be filled with vegan cheese for a more traditional approach, or, for a lighter option, the cheese can be left off entirely. Whichever way you prefer, the result is irresistible and is sure to impress both vegans and non-vegans alike.
In my journey to recreate these enchiladas, I discovered that veganizing traditional dishes isn't just about replacing animal products. It's about reimagining these recipes in a way that celebrates the essence of the original while embracing the bountiful flavors and nutritional benefits of plant-based ingredients.
The joy of these vegan enchiladas lies in their simplicity. Using a few easy-to-find ingredients, anyone can whip up this delicious and comforting dish.
So, whether you're a longtime vegan, new to the plant-based world, or simply curious, I invite you to try these vegan enchiladas. Taste the tradition, enjoy the burst of flavors, and make a toast to healthier, compassionate eating.
Black Bean Quinoa Enchiladas
Non-stick cooking spray
2 garlic cloves, minced
1/2 teaspoon black pepper
1/2 red bell pepper, sliced thin
1/2 tomato, chopped
1 16-ounce can black beans, drained & rinsed
1/2 teaspoons chili powder
1/2 teaspoon cumin
1/2 teaspoon salt
1/2 cup prepared quinoa
10 6″-8″ corn tortillas
Prepared enchilada sauce (recipe below)
Optional add-ins: zucchini, sliced portobello mushrooms, corn, shredded kale or spinach. Like it spicer? Add red pepper flakes or a pinch of cayenne!
Preheat oven to 350 degrees. Prepare enchilada sauce (recipe below) or use your favorite vegetarian enchilada sauce.
Spray medium pan with non-stick cooking spray. Add garlic and 1/2 tsp. black pepper. Saute on low for about 5 minutes. Add sliced red pepper and diced tomatoes and saute until desired doneness (is that a word?) – about 5-8 minutes.  Add remaining ingredients and mix well.
Microwave tortillas for a few seconds to make them more flexible so they don't tear. If you don't  mind the mess, first dip the tortilla into the warm sauce. Lay on flat surface and add about 2 tablespoons of filling onto center of tortilla. Roll it up and place in large casserole dish.
Continue with the remaining filling and tortillas. Pour desired amount of sauce over top of enchiladas. Bake for 20 to 25 minutes.
Serve with guacamole, salsa, & vegan sour cream.
Vegan Enchilada Sauce
1/2 c flour
1/4 c. oil
1/8 c. chili powder
1/2 tbsp. cumin
1 tsp. minced garlic
4 c. vegetable stock or broth ( I use Edwards & Sons No-Chick'n Bouillon Cubes)
Salt to taste (no salt if using No-Chick'n Bouillon… trust me!)
Saute first 5 ingredients over medium heat for 5 min. Add vegetable stock or broth and simmer on med-low heat for 15-20 mins.
You can store this for a week. (it will thicken when chilled)
If you do not use right away, you can reheat before adding to enchiladas.