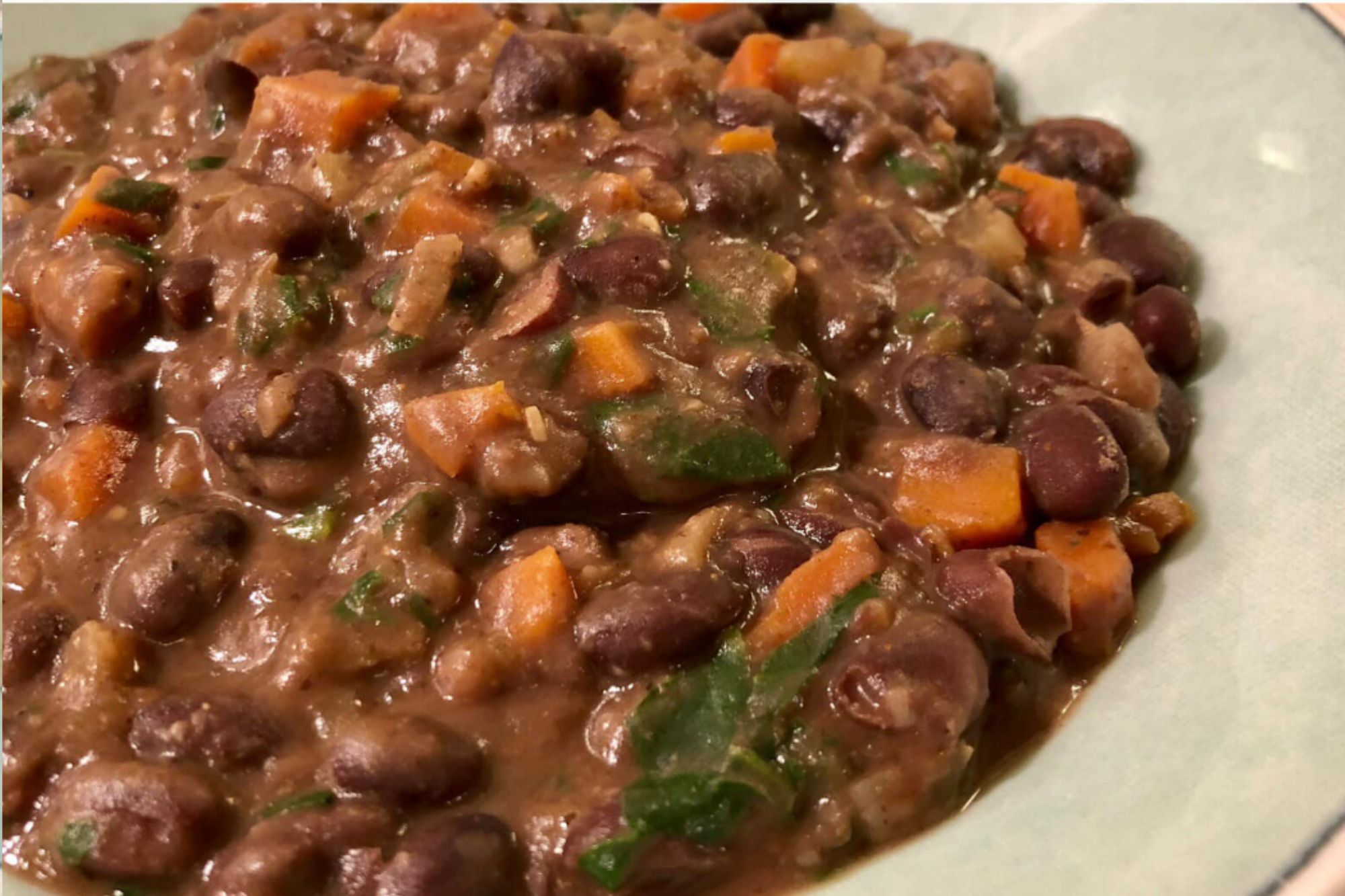 Introducing a hearty, wholesome, and flavorful meal that's perfect for any season – our Black Bean Soup loaded with veggies! This soup is not only packed with taste but also loaded with nutrients, making it a fantastic choice for a healthy and satisfying meal all on it's own.
What sets this black bean soup apart is its innovative approach to achieving that desired creaminess. Instead of relying on heavy creams or dairy products to thicken the soup, we're taking a health-conscious and plant-based route. By simply blending some of the beans and the savory broth, which includes the Edward & Sons No-Chick'n Bouillon, we create a thickness that adds depth and body to the soup. This method provides the lush texture you crave without the need for added fats or calories.
And, by using the beans to thicken the soup, we're enhancing its nutrient content as well, enriching it with additional fiber and protein.
Top it with jalapenos, cilantro, avocado, crushed crackers, and/or vegan cheese
Ingredients
1/4

cup

water

1/4

cup

dice onion

3/4

cup

diced celery

1/2

cup

diced carrot

1/2

cup

diced green bell pepper

2

tablespoons

minced garlic

4

15-ounce cans of black beans, rinsed and drained

4

cups

water

2

Edward & Sons No-Chick'n Bouillon

2

tablespoons

apple cider vinegar

2

teaspoons

chili powder

1/4

teaspoon

cayenne pepper

1/2

teaspoon

cumin

1/2

teaspoon

salt

1/4

teaspoon

hickory liquid smoke
Instructions
Add the 1/4 cup of water, onion, celery, carrot, bell pepper, and garlic to a large saucepan and simmer over medium/low heat for about 15 minutes or until tender. Add more water as needed, being careful not to burn the garlic or it will be bitter.

While the veggies are cooking, add  3 cups of the rinsed and drained black beans to a food processor with 1 cup of water and puree on high until smooth.

When the veggies are ready, pour the pureed beans, the whole beans, the 3 additional cups of water, and the rest of the ingredients to the pot and bring to a boil. Then, reduce and simmer uncovered for 50 to 60 minutes or thickened.

Top it with jalapenos, cilantro, avocado, crushed crackers, and/or vegan cheese