Black Bean Bowls with Mexican Rice & Creamy Taco Dressing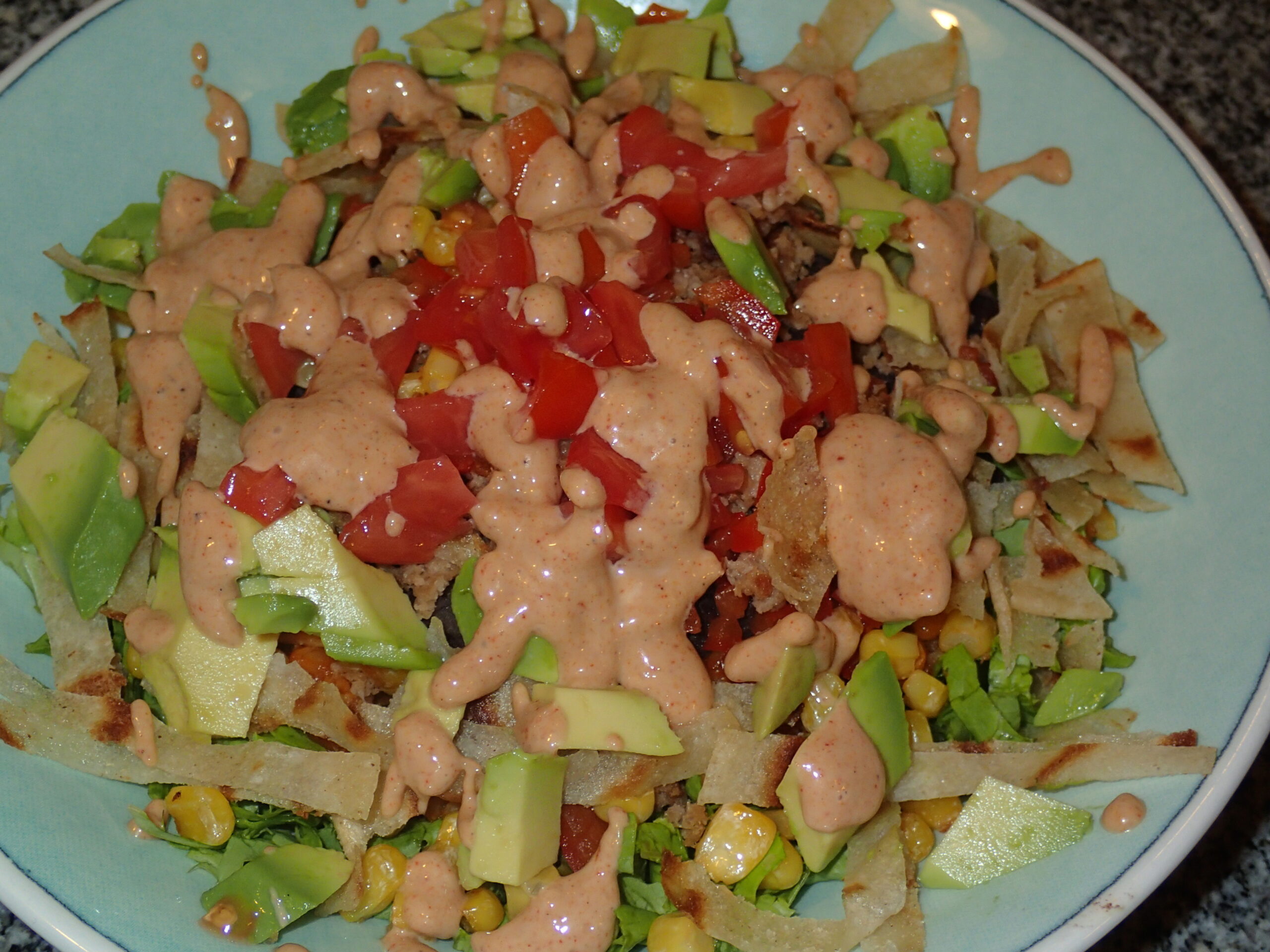 Vegan Black Bean bowls, my latest obsession! I will admit that I had this 4 times in the past week! I love mexican food and this is easy, fast and yummy! Throw whatever you have on hand in the bowl. I use black beans, corn, diced red peppers, diced tomatoes, shredded romaine lettuce, avocado, baked tortilla strips and mexican rice (recipe below). I then top it off with a creamy vegan taco dressing (recipe below)! You could also add veggie burger crumbles! You can serve it hot or cold or layer it in a pan to take along to a potluck!
Mexican / Spanish Rice:
1c brown rice or quinoa
1/2 med size sweet onion, diced
2 clove garlic, minced
3c water or veg no-chick'n broth
1/2 of 6 oz. can tomato paste
Spray sauce pan with non-stick cooking spray, add garlic and onion and saute on low until translucent, being careful not to let it brown.  Add brown rice or quinoa and cook about 5 minutes or until it becomes a golden brown color. Mix in 3c water and 3 oz. tomato paste. Stir and bring to a boil. Once boiling, turn the heat to low and cover. Simmer for about 20 minutes or until water is dissolved and rice is tender. Fluff with a fork.
Add-ins:
Diced bell pepper
Diced tomatoes
Cubed avocado
Creamy Taco Dressing:
1 cup veganaise or other veg mayonnaise
1/4 cup soy or rice milk
1 tsp garlic powder
1/4 tsp salt
1 tsp onion powder
1 tbsp cider vinegar
1 tbsp packaged taco seasoning (or more to taste)
Blend all ingredients with mixer until smooth and creamy and chill for at least 1/2 an hour.
Dressing will thicken and as it cools.