Make the Most out of Fort Wayne Vegan Restaurant Week (+ Bonus Game Plan!)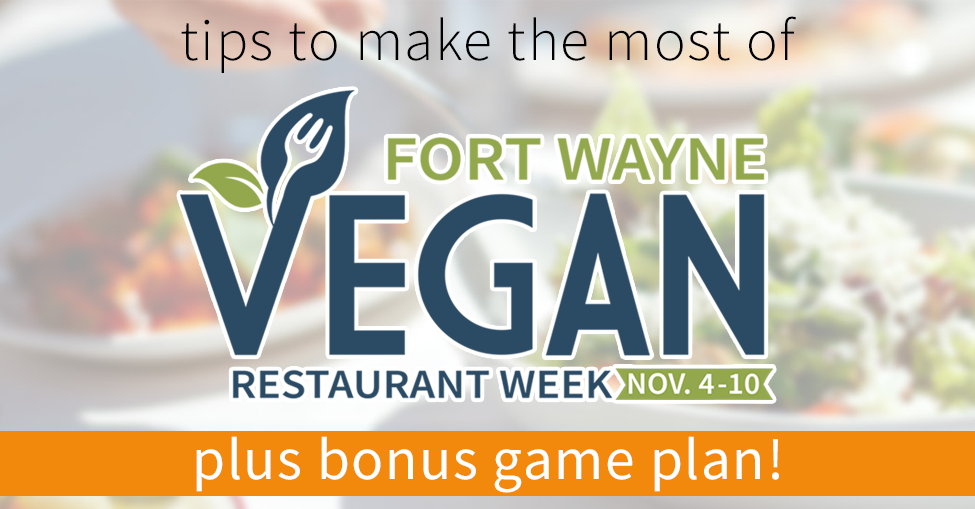 The inaugural Veg Academy's Fort Wayne Vegan Restaurant Week sponsored by Three Rivers Co-op is less than a week away and we're completely excited, especially after viewing the menus! Whether you're vegan, vegetarian, a food lover, or just want to try something new while supporting local eateries, Fort Wayne Vegan Restaurant Week, running November 4-10, has something for everyone. With 8 participating restaurants and lots of amazing food options, one of the hardest decisions is choosing where to go and when so you don't miss a thing!
Unlike your typical Restaurant Week, Fort Wayne Vegan Restaurant Week is a little different, besides all of the weekly specials being vegan, there's no set price so you're able to eat out multiple days and multiple meals per day without completely breaking the bank!
Make the most of Fort Wayne Vegan Restaurant Week with these tips and sample game plan!
Check the Menus
Take a look at the menus from the participating restaurants online at fortwaynevegan.com to start exploring your options.
Make a Game Plan
You don't want to miss out on any of the specials going on during Vegan Restaurant Week, so plan ahead. While drooling over the menus, pay attention to any restaurants that are only offering their specials on certain days (Trubble Brewing) and pay attention to the days and hours restaurants are open. There's nothing worse than showing up hungry to a restaurant only to find out that they're closed or they're not offering the vegan specials on the day you arrived.
Vegan Restaurant Week is serious business so be prepared! Make a calendar of when and where you're going each day and stick to it to avoid missing something. You'll want to visit each restaurant multiple times to try everything they have to offer.
Need help? Here's my (not yet set in stone) game plan for Fort Wayne Vegan Restaurant Week:
Monday
Lunch: 3 Rivers Co-op
Dinner: Junk Ditch
Tuesday
Lunch: Savery Vegan Grill for Taco Tuesday
Dinner: Umi
After dinner dessert: West Central Microcreamery
Wednesday
Lunch: Pembroke bakery
Dinner: Full Circle BBQ
Thursday
Lunch: 3 Rivers Co-op
After lunch dessert: West Central Microcreamery
Dinner: Trubble Brewing
Friday
Lunch: Savery vegan grill
Dinner: Umi
Saturday
Brunch: Trubble Brewing
Light lunch: 3 Rivers Co-op
Dinner: junk ditch
Sunday
Lunch: Pembroke Bakery
Dinner: Full Circle
Make a Reservation (If Needed)
While reservations aren't required and some restaurants don't even accept them, it may be a good idea to reserve a table when you can, especially on the weekend, so your game plan doesn't get derailed.
Bring a Friend or Two
Dining out with friends is not only great for the company, but it's a great way to try multiple dishes. If you each order different meals and share them, you'll have the chance to try multiple dishes.
Snap a Pic for a Chance to Win
Share your meal on Instagram & facebook using #FWVRW and be sure to tag @fortwayneveganrestaurantweek on facebook (make sure your post is public) to be entered to win a gift certificate from Pembroke Bakery & Cafe! Post a pic each time you dine out during Fort Wayne Vegan Restaurant Week to be entered multiple times during the week!