Happy New Year! So far the new year has been great, mainly because I FINALLY have a tofu scramble recipe that my husband LOVES and not just tolerates! I normally don't put the veggies in his either and was surprised when he said he would like the veggies added. Looks like this year is going to bring some great changes!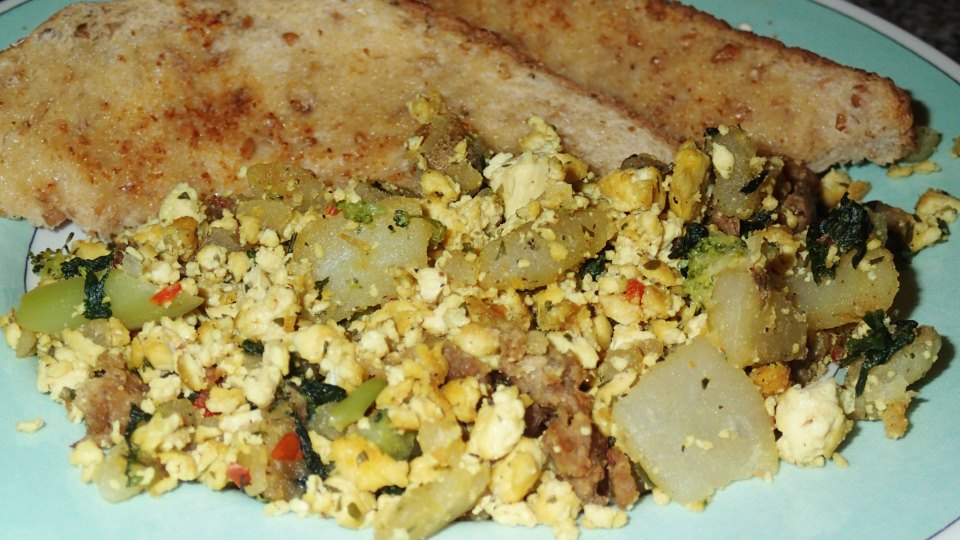 1 pkg. firm tofu, drained and squeezed well
1/2 vegan no-chick'n bouillon cube (Edwards & Sons)
1/2 tbsp. nutritional yeast
1/2 tsp salt-free Mrs. Dash
1 tbsp. dried parsley flakes
1/2 tsp onion powder
1/4 tsp garlic powder
1/8 tsp turmeric
1/2 tbs soy sauce
1/4 tsp. black salt (optional, but recommended for the sulfur/eggy flavor)
pepper to taste
Drain tofu well and squeeze out as much water as possible. Spray pan with no-stick cooking spray or melt butter to coat. In large bowl, crumble tofu and add seasonings, mix well.
Cook on med heat until done. I like mine to slightly brown on one side.
Optional Add-ins:
fried potatoes
vegan sausage crumbles (I like lightlife's gimme lean)
brocolli
spinach
kale
For Breakfast Burritos or Tacos: add scramble mixture to flour tortillas along with vegan sausage patties and top with chopped kale. An easy & delicious way to get some greens in the morning!