This vegan Cream of Broccoli Soup is an easy and delicious soup that everyone will love! My husband and family love this soup. The soup base uses my vegan alfredo sauce with a slight change — it uses 2 tsp of cornstarch instead of flour which also makes this soup gluten-free, and includes steamed broccoli.
Want a Broccoli and cheese soup? Simply add some vegan cheddar to the finished soup and let it cook until melted. Or, you could add some nutritional yeast.
Want to make it oil-free? Skip the butter! There is however a small amount of oil in the no-chicken bouillon cubes which I wouldn't skip.
Vegan Cream of Broccoli Soup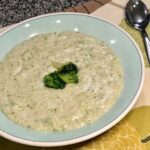 Your family is going to love this Cream of Broccoli Soup. It's so creamy and delicious that no one will ever know that it's vegan!
1 cup raw cashews (soak overnight if you don't have a high-powered blender)
2 cups water
1/2 tsp garlic powder
2 tsp onion powder
1 cube Edward & Son's No-Chicken Bouillon
2 tsp cornstarch
2 tbsp vegan butter
1.5 cups non-dairy milk (we prefer Rice Dream Original or unsweetened soymilk. We don't love the taste of almond milk in this recipe.)
10 oz bag of broccoli florets
Salt & pepper to taste
Steam broccoli until soft.

While broccoli is steaming, add cashews and water to a blender and blend until smooth. Add the remaining ingredients except for the milk and broccoli, and continue blending until mixed well.

Add sauce to saucepan. Add the non-dairy milk to the blender and swish around to get the remaining sauce out and pour into the saucepan.

Cook over medium-high heat stirring consistently to avoid lumping. Cook until desired consistency.

Add the steamed broccoli and mash a little to break apart.

Salt & pepper to taste