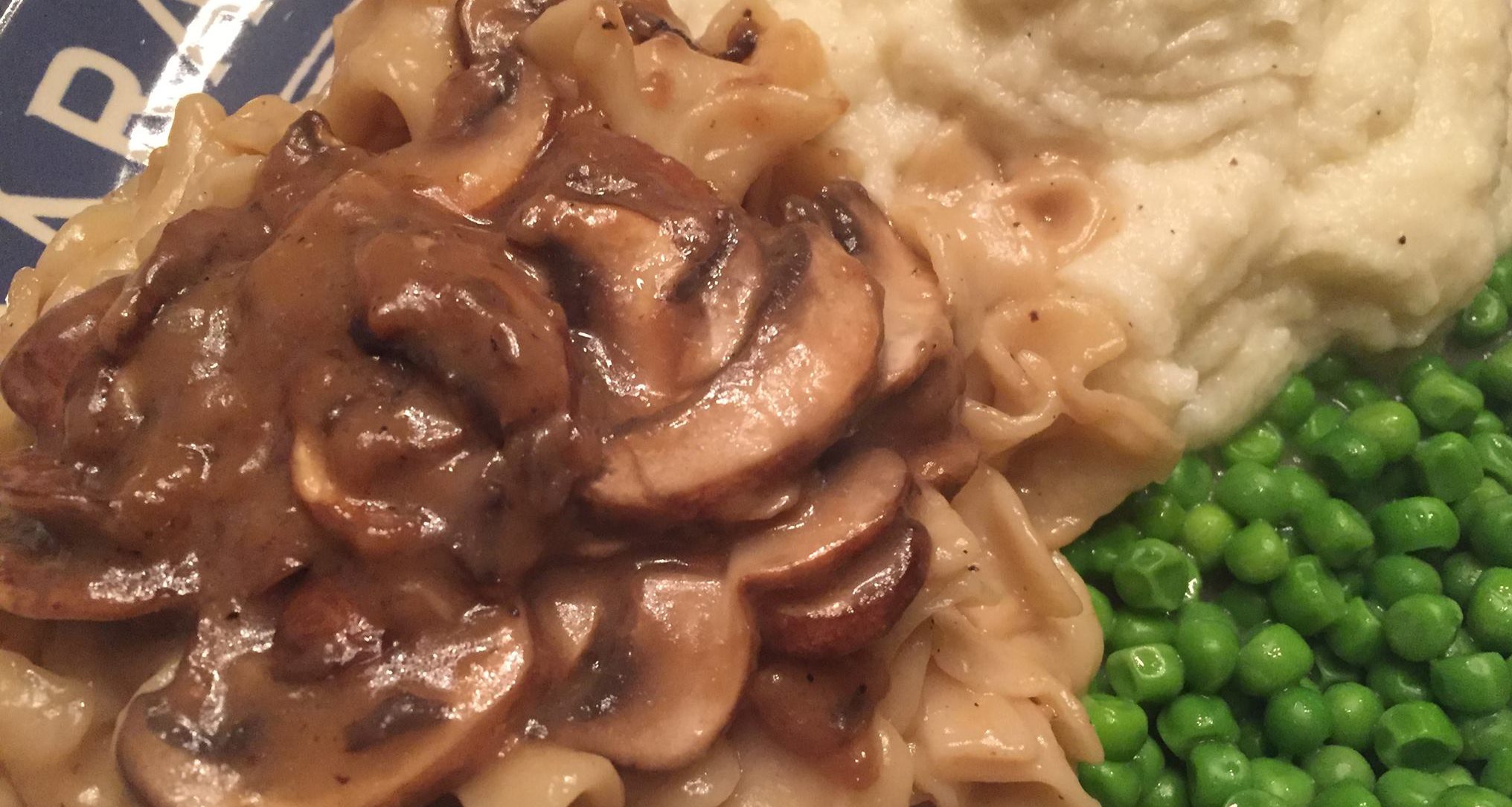 This classic comfort food is easily made without the beef. And, for you crazy non-fungi lovers, my hubby claims it's just as good without the mushrooms! I also make him mashed potatoes, and to avoid being carb-heavy, I make mashed cauliflower for me.
A word about the ingredients: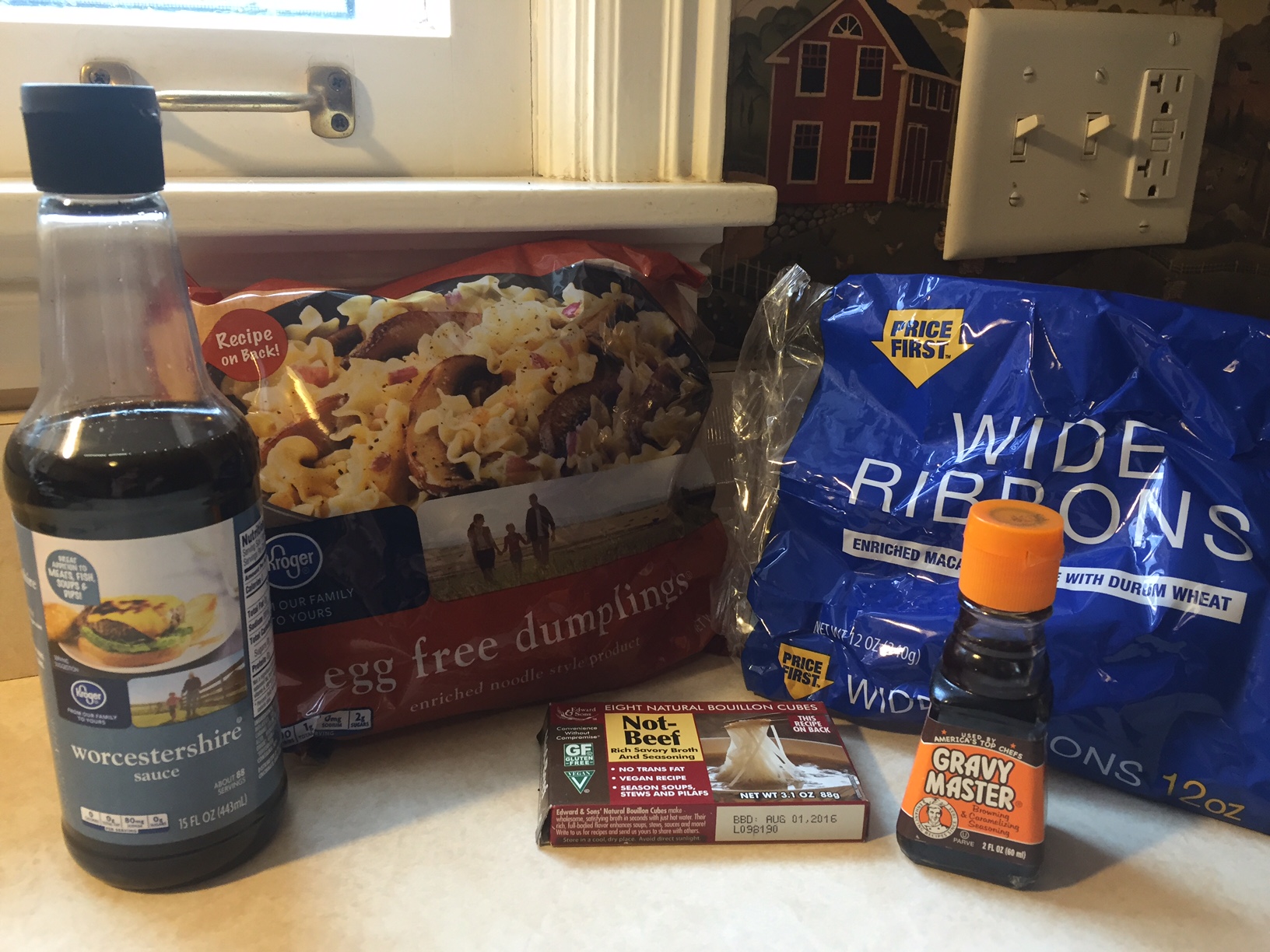 Hopefully you can find eggless noodles at your local grocery store. My Kroger stores carry an eggless dumpling noodle and I've also found eggless noodles at the dollar store. The cook a lot faster than other noodles so check them often to avoid overcooking.
The "beef" broth I use is Edward & Sons Not Beef Bouillon. I get mine at Earth Fare, but you can also get it online at Vegan Essentials, Vitacost, or elsewhere.
Make sure your Worcestershire sauce is vegan. A lot of brands use anchovies. The Kroger brand does not contain the nasty little things! If you can't find it in a local store, you can purchase it online along with your Not-Beef bouillon – both from Edwards & Sons.
I use Gravy Master to darken the sauce a little. It gives it a browner color. If you can't find it you can leave it out. It's really for color only!
Ingredients:
3 cups cooked eggless noodles
1/4 cup vegan butter such as Earth Balance
1 cup water
1 1/2 cup non-dairy milk. I use Rice Milk Original (do not use vanilla flavors)
2 Edwards & Sons Not-Beef Bouillon cubes
1 teaspoon Worcestershire sauce
1/4 tsp garlic powder
1 teaspoon Gravy Master
1/2 cup all-purpose flour
If using mushrooms:
1 1/2 cups sliced portobello mushrooms
1/8 cup finely diced onion
1/4 tsp black pepper
Directions:
In large sauce pan, cook noodles until tender, being careful not to overcook. Drain, and set aside in saucepan away from heat.
In skillet, melt butter. Stir in the water, Worcestershire sauce, garlic powder, gravy master and the bouillon cubes. Allow bouillon to melt completely.
In shaker jar add the cup of non-dairy milk and flour. Shake to combine. Whisk into gravy mixture. Heat to boiling, whisking occasionally to avoid clumping, then reduce heat and simmer for 15-20 minutes or until slightly thickened.
Stir 1/2 of gravy into noodles. Or, if not using mushrooms, stir all gravy into noodles and you're done! If you're using mushrooms, continue on!
In skillet with the rest of the gravy, add the onions, mushrooms, and black pepper. Cook over medium heat until mushrooms are at desired tenderness. Combine mushroom gravy with noodles. Serve, eat, enjoy!