I've finally done it! I've cracked the best vegan nacho cheese sauce recipe! The texture and taste of this recipe are almost exactly how I remember nacho cheese.
And, this vegan cheese sauce is not only delicious, but it's also whole foods plant-based, naturally gluten-free, and was a hit with my super picky husband who turned his nose up to all of my other attempts … until now!!
Vegan Nacho Cheese Sauce
This vegan nacho cheese sauce is super easy to make. Just cook the veggies then add them to a high-powered blender along with the remaining ingredients, blend, then eat!
Eat it on nachos, as a mac & cheese with a Mexican flair, or simply grab some tortilla chips and start dipping!
This easy vegan nacho cheese sauce recipe has only 13 ingredients and will take you less than 1/2 an hour to make. And, since it's made with whole foods, you won't feel guilty entire the entire batch!
Your friends and family won't believe that it's made with veggies!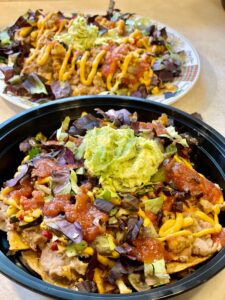 Best Vegan Nacho Cheese Sauce
This easy vegan nacho cheese sauce recipe is so easy to make and made with whole plant foods, that you won't feel guilty eating the entire batch!
1 medium russet potato (peeled and cubed)
1 medium carrot (peeled and chopped)
1/4 cup onion (sweet, yellow, or white) (chopped)
1/4 cup cashews (heaping cup)
1 tsp salt
1/2 tsp minced garlic
1 1/2 cups water
3 tbsp nutritional yeast
1 tsp smoked paprika
1/4 tsp chili powder
2 tbsp pickled jalapeno slices
1 tbsp juice from the pickled jalapeno slices
In a large saucepan, add the peeled and chopped potato, carrot, onion, cashews, garlic, salt, and water. Bring to a boil then reduce heat to medium, cover, and cook for 10-15 minutes or until veggies are soft.

Add all ingredients of the saucepan, including the liquid to a high-speed blender along with the remainder of the ingredients and blend until smooth.

To serve, sprinkle with a little smoked paprika and top with jalapeno slices.

Refrigerate leftovers for up to a week in an air-tight container.