[wprm-recipe-jump]
Buddha bowls are always our favorite way to eat a healthy meal with lots of veggies. Vegan buddha bowls are super versatile. Just add what veggies, beans, grains, and fats that you have on hand and toss with your favorite sauce.
This BBQ Tofu Buddha Bowl is a staple in our home and gets my picky husband to eat his veggies. His is different than mine. I don't eat a lot of soy so instead of tofu, I'll roast some cauliflower and toss it with some homemade bbq sauce. If I'm not feeling quinoa-y, I'll sub cauliflower rice in mine or just leave it out altogether.
BBQ Tofu Buddha Bowl with Cashew Ginger Dressing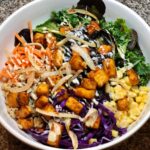 Here's our favorite way to eat this bowl, but feel free to use whatever veggies and grains that you have on hand!
BBQ Tofu
1/2 package firm tofu, pressed and cubed
1/4 cup bbq sauce (your favorite. storebought or homemade)
salt & pepper
Bowl Ingredients
1/2 cup sliced onion
1 cup quinoa or rice, cooked
2 cups kale, finely chopped or mixed greens
2 cups red cabbage, shredded
1 cup matchstick carrots
1 cup sweet corn, cold
1 cup black beans, rinsed & drained
Cashew Ginger Dressing
3/4 cup cashew butter (or peanut butter)
1 tbsp fresh ginger, finely grated
1 clove garlic, minced
2 limes, juiced
1 tbsp soy sauce
1/4 tsp toasted sesame oil
2 tbsp rice wine vinegar
1/2 cup hot water
For BBQ Tofu:

Preheat oven to 425 degrees. Toss drained tofu with salt & black pepper. Air-fry or bake (tossed with a little olive oil if desired) on a pan covered in parchment paper for 15 minutes. Remove tofu, toss with bbq sauce, and bake for another 5 minutes. During this last 5 minutes, add the sliced onion seasoned with salt & pepper and roast.

For the Sauce:

In a medium bowl, combine all ingredients and whisk to combine. Or add to a small blender jar and blend until smooth.

Build the Bowl:

Layer veggies, beans, corn, and quinoa or rice in large bowl. Top with bbq tofu and toss with cashew ginger dressing.